Want to help support Friends of Stark Pound's mission?
Friends of Stark Pound is completely dependent on fundraising events to support our funding of the veterinary clinic at the Stark County Sheriff Department Dog Warden Division. How can you get involved in supporting our mission? There are lots of ways listed below:
Plan on attending one of our events! Friends of Stark Pound has two large events each year with lots of opportunities to support the homeless dogs at the Stark County Sheriff Dog Warden Department.
Can't attend an event in person? Consider supporting that event through a donation of a gift basket or gift card to raffle at an event. Or, purchase tickets so that one of the Dog Warden Department volunteers may attend our event for free!
Support our Annual Online Auction which takes place the week of Thanksgiving. We have a wide selection of wonderful, unique items for auction—a great way to check off those folks on your Christmas shopping list!
Become a monthly giver! You could be a consistent source of support and make a significant contribution to Friends of Stark Pound by giving a gift that fits your budget, every month, automatically. You're always in complete control of your giving, and when you're a monthly donor, you're a hero the homeless dogs at the shelter can count on!
Make a one-time gift! Giving Tuesday and the holiday season are always a great time to give, but you can donate anytime to remember a loved one, celebrate a marriage, birthday, or other special occasion in a dog lover's life.
Make a legacy gift. You don't need to be wealthy to make a legacy gift at the end of your lifetime. A legacy gift can simply be a directive in a basic will that you can add yourself if you use online legal documents. Click here for a sample of simple bequest language that you can tailor to fit your needs.
Sponsor Us!
If you have a business and would like to reach potential customers who love dogs, you can sponsor a Friends of Stark Pound event and reach 17,000+ Friends of Stark Pound followers on Facebook, when we post recognition of your support. If you're interested in sponsoring a Friends of Stark Pound event, please reach out to us at [email protected].
Events for 2023
Sunday Funday, June 25, 2023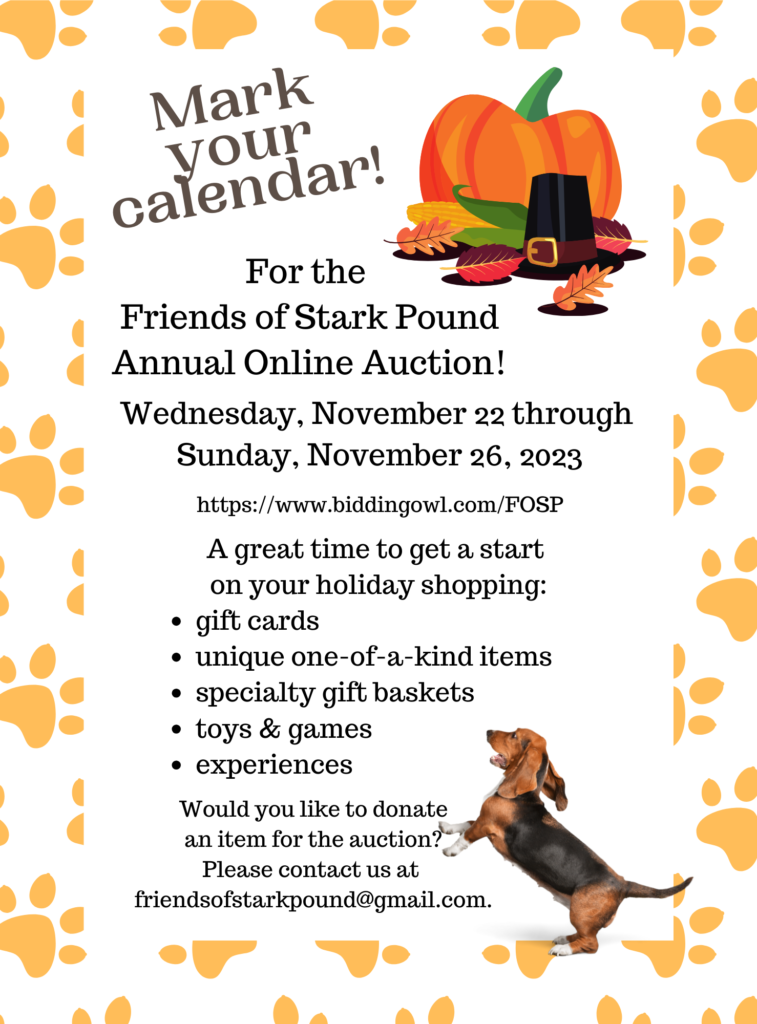 The Friends of Stark Pound Annual Silent Auction (Online), November 22 — 26, 2023
Mark your calendars for November 22 through November 26, and get ready to bid on unique baskets, gift cards, and artisan items that will make everyone on your Christmas list very happy! As with any Friends of Stark Pound event, 100% of every dollar raised goes to help the dogs at the Stark County Dog Warden Department shelter.